2016 SONY BDP-S3700 Multi Zone All Region Code Free Blu-Ray Player SEN - WI-FI - DVD - CD Disc Player - 100~240V 50/60Hz Auto
Product Description
SONY BDP-S3700 Multi Zone All Region Code Free Blu Ray PSN - WI-FI - DVD - CD Disc Player - 100~240V 50/60Hz Auto
Special Features:
Plays 2D Blu-ray Regions: A, B and C

Plays All-Region DVDs: Region 1, 2, 3, 4, 5, 6, 7, 8, 9. 0 PAL/NTSC

Plays PAL and NTSC Region DVDs on ANY TV

Built-in NTSC⇔PAL Converter
Built-in Wi-Fi
DLNA Cerified / Gracenote

Fully-Enclosed Optical Drive

DLNA & Miracast Mobile Device Mirroring

Access to the Sony Entertainment Network

Access to PlayStation Now Game Streaming

Play PlayStation 3 games with your DUALSHOCK 4 controller (not included)

Dolby TrueHD & DTS-HD Master Audio

Access to the Sony Entertainment Network

Front Panel USB Media Player

100+ streaming apps: Netflix, HuluPlus, Amazon Instant Video, Pandora & more

Digital Coaxial Audio Output

100-240V Worldwide Voltage

Play PS3 games directly on your TV –no game console required Enjoy instant access to a catalog of hundreds of streamed PS3 games. Play using your 2015 Sony Blu-ray Disc player and a DUALSHOCK 4 controller (not included) – no game console required

User Friendly Navigation
Premium Content
Amazon Instant Video

Netflix

Hulu Plus

Vudu

Pandora

Crakle

Wild TV

Weather

MuzuTV

EarthCam

W-Network

Facebook

YouTube

CinemaNOw

YuppTV

AccuWeather

250+ Apps and content
Play PlayStation 3 games without a console and watch Blu-ray and HD content through the Sony BDP-S3700 Wireless Streaming Blu-Ray Player. It features PlayStation Now, which will allow you to stream and play PlayStation 3 games with your DUALSHOCK 4 controller (DUALSHOCK 4 controller - sold separately), but without a console. The BDP-S3700 also supports full HD 1080p Blu-ray disc playback from its HDMI output, and can upscale standard DVDs to 1080p quality.

It provides access to over 300 streaming services which can allow you to play movies, TV shows, music, and more with a valid subscription and broadband connection.
Stronger, faster Wi-Fi connectivity Sony Wi-Fi Blu-ray Disc Players are engineered for a stronger and faster wireless connection. A new Wi-Fi module compatible with MIMO provides improved stability and speed performance for a better streaming experience

Use your smartphone or tablet to control your TV
Cut down on the number of remotes by using the TV SideView app. TV SideView turns your smartphone and tablet device (Android or iOS) into a universal remote, controlling your Sony Streaming Blu-ray Disc player and other compatible devices. Dedicated buttons also let you instantly launch your favorite streaming services, such as Netflix, YouTube, Pandora, Amazon Instant Video, and more
Specifications:
Stream and browse easily with the BDP-S3700, a Wi-Fi optimized Blu-ray ™ Disc player that plays online shows and media seamlessly in Full HD. Explore mobile content on your TV with screen mirroring, and learn more about your programs with TV SideView, an app that lets you remotely control the player with your mobile device.
Features:
Full HD 1080p
Watch the latest Blu-ray Disc™ movies in Full High Definition quality, for depth and image clarity far exceeding that of DVD. The BDP-S3700 also upscales your standard definition DVDs to near HD resolution, so you can enjoy astonishing detail for all of your favorite movies.

TRILUMINOS®® brings colors alive
Discover true-to-life colors and tones. TRILUMINOS® color has a wider visible color spectrum to reveal more true-to-life tones and texture. Hard-to-reproduce vibrant reds, aqua blues, and emerald greens are displayed beautifully, so landscapes and seascapes look more vivid. Faces look better too, with more faithfully reproduced skin tones.

Smooth video streaming with Wi-Fi Certified
Enjoy smooth, fast browsing with Wi-Fi Certified. This Blu-ray Disc™ player features a unique Wi-Fi module optimally positioned for maximum signal strength. A clever multi-antenna design also ensures a more reliable signal than conventional Wi-Fi, so you'll experience smooth video streaming and responsive browsing from any place in your home.

Screen mirroring to wirelessly show your smartphone screen on TV
Wirelessly mirror the screen of your mobile device on a large screen connected to your video device. Screen mirroring works with Xperia™ smartphones, tablets, and other devices compatible with Miracast™ technology. Multiply the joy with family and friends by watching videos together, browsing together, or selecting the next vacation destination on a map.
Enrich your viewing with the TV SideView app
Use your tablet or smartphone (Android or iOS) to control your Blu-ray Disc player, and learn more about what you're watching—without disrupting your viewing experience. The SideView app also lets you instantly access content from devices on your local network or from the wide range of online services available on the player.

Connect to your home network with DLNA
Digital Living Network Alliance (DLNA) is an industry-wide standard for sharing data over a home network. This makes it easier to stream and transfer your favorite music, films, and pictures between your DLNA-supported devices—including TVs, PCs, portable servers, and gaming consoles.

Graphic user interface is quick and intuitive
Finding apps and features is quick and simple with a graphical user interface. Browse on your TV screen with easy-to-navigate panels—content is divided into featured apps on one side and your favorite apps on the other. Everything is neatly organized and quick to launch.

Super quick start gets you watching faster
Tired of waiting around for your entertainment? With Quick Start mode and Fast Loading, it takes less than a second to boot up your Blu-ray Disc™ player. You get to the action quicker, with even interactive discs loading in as little as 30 seconds after closing the tray. If you're not watching Blu-ray, you can launch Internet content even faster, too.

Wide codec support for more viewing options
It's easier than ever to enjoy videos, music, and photos stored on USB drives or your home network, without having to worry about video or music formats. That's because our latest Blu-ray™ Disc players support 26% more combinations of video, container, and audio codecs than previous models, including new .mkv files and High-Resolution Audio.
Specifications:
Playback Capability
Playback: Yes (BD, DVD, CD, USB, DLNA, Net services)
Picture and Audio Features
Super Scaler (Precision CinemaHD Upscale): Yes
Deep Color: Yes (16bit)
24P True Cinema: Yes
NTSC/PAL: Yes/Yes
DVD 24P Output: Yes
HDMI®: Yes (480i/ 480p/720p/1080i/1080p )
Coaxial, Optical: Yes
Functions
Screen Saver / Easy Set Up /PhotoTV HD: Yes/Yes/No
Child Lock: Yes
Parental Control: Yes
USB Keyboard (101 Only) / Auto Standby: Yes (101 only)
WI-FI® Built In: (2.4 GHz/MIMO)
Photo Slide Show With Music: Yes
Live Streaming / Subtitle / Recommendation: Yes/Yes
Bravia Sync: Yes
Supported MediaConvenience

DVD Camcorder 8cm DVD: 8cm DVD-R/ -RW
DVD Camcorder 8cm DVD: 8cm DVD+RW
DVD+R: Yes
DVD+R Double Layer: Yes
DVD+RW: Yes
DVD-R: Video
DVD-R: VR (w/o CPRM)
DVD-R Dual Layer: Video
DVD-R Dual Layer: VR (w/o CPRM)
DVD-RW: Video
DVD-RW: VR (w/o CPRM)
DVD-Video: Yes
External HDD (Read/Write/Copy/Move): Yes (Read)
File System: FAT32 / NTFS
USB Memory: Yes

Bit Rate Indicator: Yes (Video, Audio, BIV)
IPCC: Yes
Parental Control: Yes
Screen Saver: Yes
USB Keyboard: Yes (101 only)
Auto Power Off (Auto Stand-by): Yes
DEMO mode - Tray Lock: Yes
Multiple Language Display: English
Multiple Language Display: Spanish
Multiple Language Display: French
Multiple Language Display: Portuguese
Software Keyboard: English
Software Keyboard: Norwegian
Software Keyboard: Finnish
Software Keyboard: Greek
Software Keyboard: Dutch
Software Keyboard: Portuguese
Software Keyboard: Swedish
Software Keyboard: Danish
Software Keyboard: Russian
Software Keyboard: Polish
Software Keyboard: French
Software Keyboard: German
Software Keyboard: Italian
Software Keyboard: Spanish
BRAVIA® Sync™: Yes
Easy Setup: Yes
Child Lock: Yes
Deep Color: Yes (16bit)
Preset Picture mode Cinema tuned: Yes (Standard/ Brighter room/ Theater Room)
Super Scaler (Precision CinemaHD upscale): Yes
24p True Cinema™ Technology: Yes
PhotoTV HD: Yes
x.v.Color™ Technology: Yes
Boot time (Quick Start Mode): Yes (Super Quick Start Mode)
Disc Drive: Yes (Precision Drive HD)
Region Code (BD): A/B/C
Region Code (DVD): 1 2 3 4 5 6 7 8 PAL/NTSC
Startup Screen: Yes
Single/Changer: Single
HDMI Output(s): 1 (Rear)
USB Input(s): 1 (Front)
Coaxial Audio Output(s): 1 (Rear)
Ethernet Connection(s): 1 (Rear)
Re-enc from DTS to Dolby Digital(5.1ch): Yes
C/O on Kimeihan: Yes (English / French)
Safety Approval: UL
Standard Remote: Yes
Video
General
Inputs and Outputs
Audio
Regulation and Standards
Remote Control
Network Features/SEN Wake on LAN: Yes (Super Quick Start Mode)
Playback
RepeatPlayback Control

All: Yes
Chapter: Yes
Title: Yes
Track: Yes

PREV/NEXT: Yes
Play/Stop/Pause: Yes
REV/FWD: Yes
STEP Playback (FWD/REV): Yes
Slow Playback (FWD/REV): Yes
Convenience
Wi-fi

Screen Mirroring: Yes
Waiting Mode for Screen mirroring: Yes
Wi-Fi Built in: Yes (2.4GHz)
Wi-Fi MIMO(Multi Input Muti Output): Yes
List with ThumbnailGUI

BD/DVD/CD: Photo Only
HDD: Photo Only
USB: Photo Only

Customize on My Apps: Yes
FAVORITE on Remote: Yes
New UI: Yes
History Indication: Yes
Style: Qwerty
Style: Qwertz
Software Keyboard
Video
Noise ReductionBD
HD (24Hz) (24p True Cinema): Yes
HD (60Hz): Yes
HD 24Hz to 60Hz conversion: Yes
SD (60Hz): Yes
DVD 24p output: Yes
HDMI: Yes (480i/576 480p/576 / 720p/ 1080i/ 1080p (50/60Hz))
NTSC/PAL (60Hz/50Hz): Yes
TV Type Default Setting: 16:9
HDMI: Yes (480i/576 480p/576 / 720p/ 1080i/ 1080p (50/60Hz))
HDMI: Yes (720p/ 1080i/ 1080p)
HDMI: Yes (1080p (24Hz))
DVD
Video Output - DVD R/RW BD R/RE non copy protected
Video Output - DVD Upscaling
Photo
Audio
CoaxialHDMI

DTS bit-stream out: Yes
Dolby Digital bit-stream out: Yes
LPCM 2ch(-48kHz/-24bit(16bit for encrypted content)) Out: Yes

DTS HD Master Audio bit-stream out: Yes
Dolby TrueHD bit-stream out: Yes
LPCM 2ch out: Yes (192kHz/ 96kHz/ 48kHz)
LPCM 6ch (5.1) out: Yes (192kHz/ 96kHz/ 48kHz)
LPCM 8ch (7.1) out: Yes (96kHz/ 48kHz)
AV Sync: Yes
DRC: Yes
Dolby: Dolby True HD decoding (2Ch)
dts: DTS decoding (2Ch)
Decodability
Network Features/SEN
Sony Entertainment Network

Live Streaming: Yes
Subtitle: Yes
Power
Power Consumption (in Operation): 8.8W
Power Consumption (in Standby): 0.2W
Power Requirements (frequency): 50/60Hz
Power Requirements (voltage): 100-240V
Approximate Dimensions:
Height:1-9/16"
Width: 9-1/8"
Depth: 7-3/4"
Approximate Weight:
Unit: 1 lbs 13 oz
Shipping: 3 lbs
In the box:
SONY BDP-S3700 Region Free Blu-Ray Disc Player

Remote

Batteries

6ft HDMI Cable

Papers / Instructions / Manual
We will match the lowest price plus give you an additional 10% off the difference, simply send us a link to the same player and we will make an adjustment to your order – please be sure it is a region free player. Our Region Free Blu-ray & DVD players allow you to play DVDs and Blu-ray Discs from any region in the world. We use the best of the best ICOS-HD. All of our players use state of the art FPGA hardware technology that allows for future firmware updates. As well as they all include the built in NTSC⇔PAL Conversion this means that you do not need a special TV or an external video converter Our HD-ICOS hardware players use the best 1:1 digital PAL/NTSC conversion.
ATTENTION EU / INTERNATIONAL BUYERS: You are responsible for import, customs duties, zoll, VAT etc it is your Government that collects these fees, not us, all items are shipped as merchandise ..... we do not ship as gift or presents for a friend.
ATTENTION CANADIAN BUYERS: All GST/HST Broker and Import fees are included. your item will be delivered to your door without any additional fees, Items are also shipped from CANADA to expedite the process.
CHECKOUT WITH AMAZON CLICK ON THE IMAGE LINK BELOW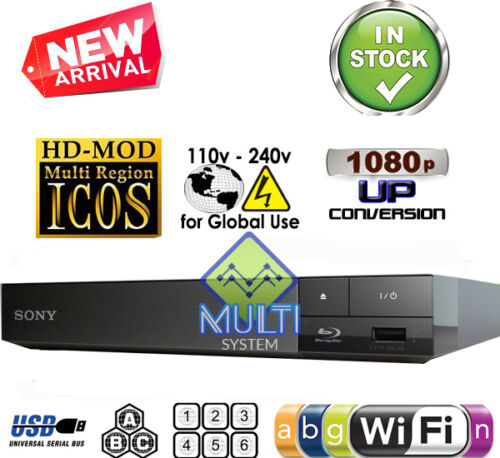 Warranty Information
We provide you with the 1 year warranty on parts and labor in addition to that you can purchase the extended warranty 2 and 3 years. We also give you Life Time Region Free Guarantee & Support – this means that your player will be region free for the life of the player 100% Guaranteed. Firmware Upgradable - We guarantee that your region free player will play any region DVD and the Blu-Ray region for the life of the player and you can continue to update your player's firmware without the worry that you will lose region free playback – exclusive by MultiSystem-Electronics.com
Other Details
Checkout with Amazon - Click on the Button Pay with Amazon:
Find Similar Products by Category